This is one of my go-to recipes. It's easy enough for a week night, uses ingredients that are normally kept stocked in our kitchen and the kids love it. Every. Single. Time. I imagine this would make a good potluck recipe too if you double it up.
This recipe serves 8.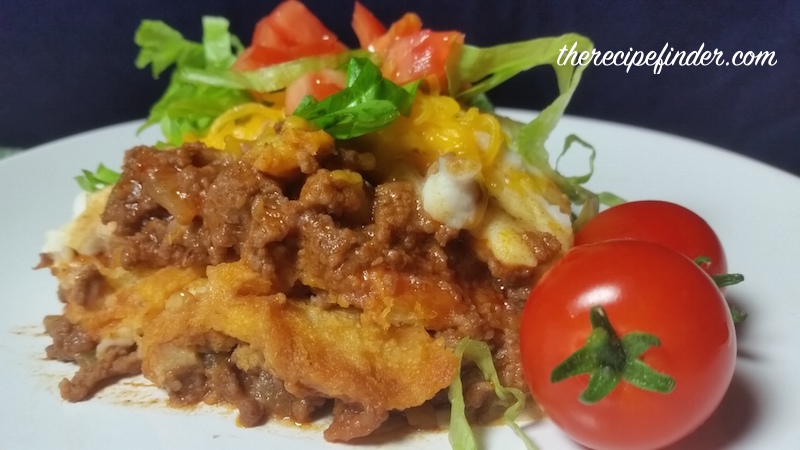 What You Need
1 tube refrigerated crescent rolls
1 1/2 tbsp coconut oil
1 medium onion (diced)
2 lbs lean ground beef
1/4 tsp seasoned salt or sea salt
1/2 tsp black pepper
1/4 cup ketchup
1 can condensed tomato soup
1 tbsp sweet relish
2 cups Creamy Mashed Potatoes
1/3 cup shredded cheese
1 small tomato
1 cup shredded lettuce
Make It
Pre-heat oven to 350 F.
In an 8 inch pie dish, roll out crescent roll, covering bottom and sides of dish. Press to seal the seams and shape.
Put crescent roll crust into oven, bake for about 8-10 minutes.
While crust is baking, in a hot pan, warm coconut oil.
Add diced onions. Fry until onions are soft and translucent.
Add ground beef, black pepper, and salt. Cook hamburger, breaking up as you go for about 3-5 minutes.
Check on crust. It should be a nice golden brown and come clean when toothpick inserted into it. Remove from oven. Set aside.
Add tomato soup, ketchup and sweet relish to hamburger.
Continue mixing and cooking. Once fully cooked, pour hamburger into pie dish with crescent roll crust. Spread hamburger evenly to cover the crust.
Spoon Creamy Mashed Potatoes over the top of hamburger, spreading evenly over the top.
Garnish with shredded cheese, lettuce, and tomatoes. Serve.
Tips & Substitutes
If you don't want to used tomato soup, increase the ketchup from 1/4 cup to 3/4 or 1 cup.
I normally prepare the mashed potatoes fresh, starting with it, letting the potatoes boil while I cook the rest of the dish. As the ketchup/sauce in hamburger is left to boil down, I'll mash the potatoes.