Zucchini Stuffed with Pine Nuts and Cranberries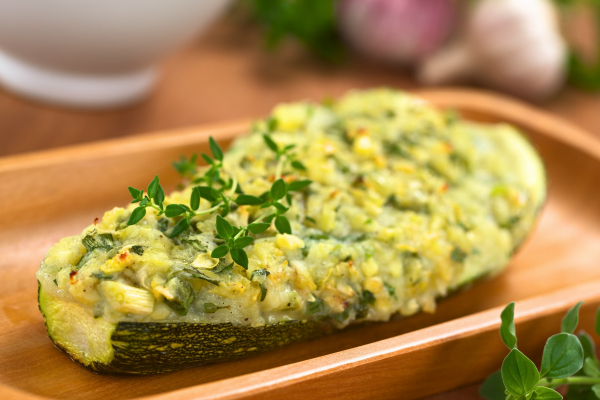 Serves 4
Ingredients:
4 medium zucchini
2 tsp olive oil
2 onions, minced
¼ cup dried cranberries, chopped
3 garlic cloves, minced
¼ cup + 2 tbsp bread crumbs
3 tbsp pine nuts, chopped
¼ cup Parmesan cheese, grated
¼ cup fresh parsley, chopped
1 tbsp anchovy paste
Pepper to taste
Instructions:
Preheat the oven to 375° F.
Cut the ends off each zucchini. Then cut about ½" slice off the top and hollow out the zucchini, leaving a ½" shell. Chop the cut off pieces as well as the inside flesh.
Heat the olive oil in a frying pan and gently sauté the chopped zucchini pieces and onions for about 10 minutes or until golden. Then add the garlic and sauté for a further few minutes. Take off the heat and add all the remaining ingredients. Stir well and fill into the zucchini.
Line a baking sheet with foil. Place the zucchini onto the baking sheet, cover with foil and bake for about 20 minutes. After 20 minutes remove the foil and bake for a further 10 minutes or until the top is nicely browned.