Cheesy Buffalo Potato Bake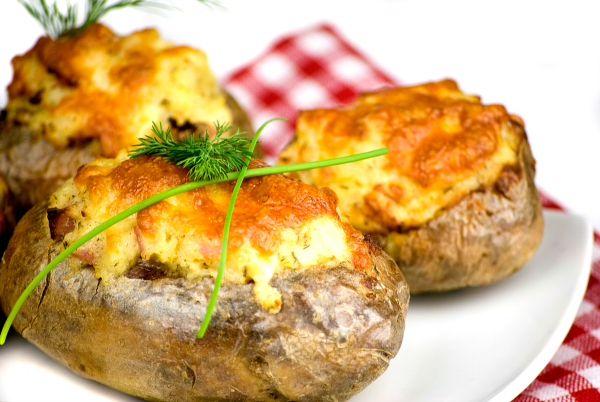 Ingredients:
4 baking potatoes
1 cup shredded Cheddar cheese, divided
3/4 cup sour cream
1 tablespoon buffalo style hot sauce
1 (24 ounce) package grilled chicken breast strips, diced
1/4 cup buffalo style hot sauce
1 tablespoon butter
3/4 teaspoon chili powder
Instructions:
Preheat oven to 425 degrees. Wash and prick the potatoes. Wrap tightly in aluminum foil. Place on a cookie sheet. Bake 1 hour. Potatoes should be tender. Remove foil and cut potatoes in half lengthwise. Spoon out the potato pulp being sure to leave the skins intact. Place the pulp in a large mixing bowl. Add 3/4 cup of cheese and sour cream to the pulp. Stir to combine. Add 1 tablespoon of buffalo sauce and mix well. Refill the potato skins. Top with the remaining cheese. Place on the cookie sheet and bake at same temperature for about 7 minutes. The cheese should be completely melted. Cook the chicken according to package directions. Once cooked add the butter, 1/4 cup of buffalo sauce and chili powder. Stir to coat the chicken. Add the chicken mixture to the top of the potatoes. Serve with toppings such as chopped green onions, sour cream, hot sauce or Cheddar cheese.