Pasta with Clams and Broccoli Florets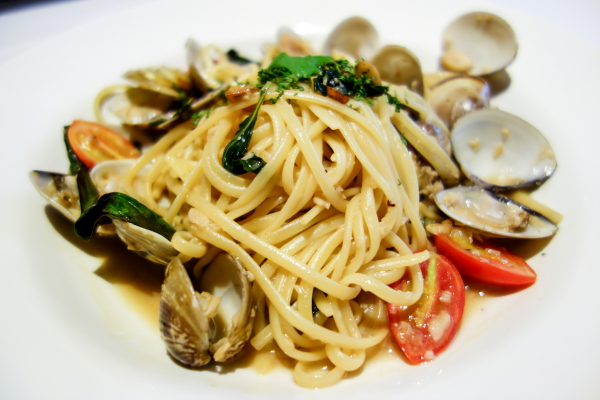 Serves 4
Ingredients:
1 ¼ cups of pasta (small pasta)
24 medium clams, scrubbed
2 onions, chopped
½ cup dry white wine
4 tsp extra virgin olive oil
2 garlic cloves, minced
4 cups broccoli florets
1 tbsp lemon juice (ideally freshly pressed)
Pinch of crushed chilli flakes
Instructions:
Add the pasta to a pot of boiling water and cook according to package instructions.
Meanwhile, steam the broccoli florets in a steamer or in a steamer basket over a saucepan of boiling water until slightly soft but still green and crisp. Add to the cooked pasta.
In a separate large saucepan, combine the clams and the remaining ingredients (except the lemon juice) and cook covered over medium heat for about 5 minutes until clams open. Discard any clams that didn't open. Take the clams out of their shells and chop into chunks. Then add the clams and the cooking liquid to the pasta/broccoli mixture. Add the lemon juice and combine well.
Enjoy with crusty bread and a tossed salad.