Pumpkin Cheesecake With Gingersnap Crust
2 C. gingersnap cookie crumbs
1/3 C. melted butter
24 oz. cream cheese
1 C. sugar
1/2 C. light brown sugar
3 eggs beaten
1 15 oz. can pumpkin
1/4 C. heavy whipping cream
1 T. pure bourbon vanilla extract
1 tsp. cinnamon
1 t. ginger
1/2 tsp. nutmeg
2 C. sour cream
Preheat the oven to 350 degrees.
Butter a 10-inch spring form pan.
Toss the gingersnap crumbs with the melted butter until evenly moistened.
Press the crumbs into the bottom and 1 inch up the side of the prepared pan.
Bake for about 12 minutes, or until the crust begins to color. Let the crust cool.
Reduce the oven temperature to 325 degrees.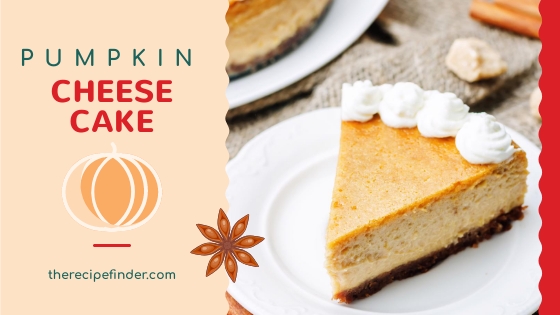 In a large bowl, using an electric mixer, beat the cream cheese until smooth.
Beat in 3/4 cup of the granulated sugar and the brown sugar, then beat in the eggs 1 at a time until the mixture is thoroughly combined.
In a medium bowl, combine the pumpkin puree and heavy cream with 1 teaspoon of the vanilla and the cinnamon, ginger and nutmeg.
Add to the cream cheese mixture and beat until combined, scraping the bowl a few times.
Wrap foil loosely around the bottom and up the side of the spring-form pan.
Pour the cheesecake batter into the prepared pan and set it in a large baking dish or roasting pan.
Place in the middle of the oven and pour 3 inches of hot water into the baking dish.
Bake the cheesecake for about 70 minutes, or until the edges are firm and the center of the cheesecake is still slightly shaky.
In a small bowl, combine the sour cream with the remaining 1/4 cup of granulated sugar and 2 teaspoons of vanilla.
Remove the cheesecake from the water bath and pour on the sour cream topping.
Gently tap the pan to spread the topping, and continue baking the cheesecake for 10 more minutes.
Transfer the cheesecake to a rack and let cool for 1 hour.
Remove the foil and the side of the pan and refrigerate the cheesecake for at least 4 hours or overnight.