Island Fruit Chicken Stri-fry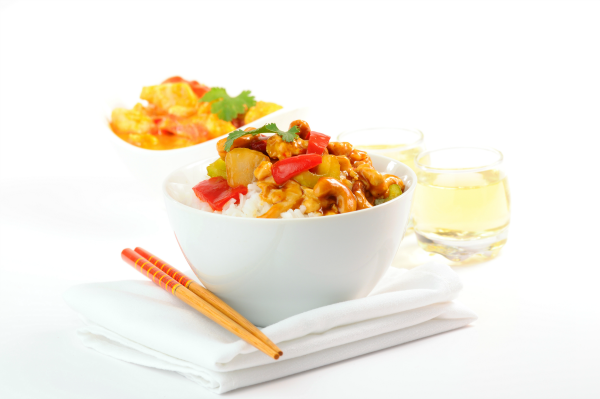 Ingredients:
1 1/2 pounds chicken breast, cubed
2 tablespoon sesame oil
2 cloves garlic, minced
1 scallion, minced
1 can (15.25 ounce) tropical fruit cocktail
1 tablespoon soy sauce
1 teaspoon ginger
1/2 teaspoon paprika
1/4 teaspoon turmeric
1/4 teaspoon allspice
1/2 cup orange juice
1 tablespoon cornstarch
Salt and pepper
3 cups cooked jasmine rice
Instructions:
Open tropical fruit and drain the juice. Put the juice to the side. Combine soy sauce, ginger, paprika, turmeric, and allspice with 1/2 cup of the left over fruit juice in a bowl. In another bowl combine cornstarch and the orange juice. Over high heat, heat the oil in a large wok. Add the scallions and garlic and fry for 1 minute. Salt and pepper the chicken and add to the skillet. Cook until chicken is no longer pink all the way through. Mix in the fruit juice and soysauce stirring for about 30 seconds, then add the fruit. Cover and cook for about 2 minutes. Mix in the orange juice mixture and stir until it becomes thick. Place stir-fry over the hot jasmine rice.