Quick and easy summer squash frittata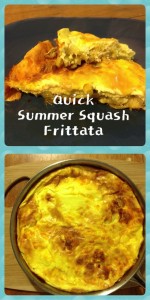 I just whipped up this quick and delicious dish on a lazy Sunday night. Yes, I love breakfast for dinner.
Ingredients
6 eggs

1 medium onion diced
3 small crooked necked squash
1/2 cup sour cream
1 cup shredded cheese of your cchoice salt, pepper and other dry seasoning
1/2 stick of butter or oil
Preparation
In a pan, melt butter or heat oil.

Add onion, sauté till soft.
Add squash.
Meanwhile, beat eggs and sour cream together.
Once squash is soft, turn heat down to low, pour egg mixture over squash.
Cook without stirring until egg starts to set a little.
Remove from heat, sprinkle cheese on the top.
Put the pan in the oven, bake at 350F for about 15 minutes.