I've been making these soy biscuits the last few weeks. They are a hit. I also noticed the biscuits turns out softer and more moist.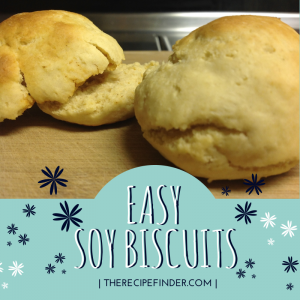 Be fairly warned though. I couldn't come up with a better name, but they are not 100% soy biscuits. This means it isn't gluten free nor it is low carb. It is however, reduced carb. The reason is simple. The recommendation on the packaging said you can only substitute up to 1/4 of the flour for non-yeast breads. It's less for yeast breads. So, I went the max.
It does have a nutty flavor to it which you may or may not like. Although I hope you do.
Ingredients
1 1/2 cups flour
1/2 cup soy flour
1 tablespoon baking powder (don't forget this!)
1/2 tablespoon salt
1/3 cup shortening
1 cup cold milk
Preparation
Pre-heat oven at 375 degrees. Our oven runs hot so you might want to adjust this up to 425. You know your oven best.
Lightly grease a baking pan, set it aside.
Mix all dry ingredients (flour, soy flour, baking powder and salt) together in a mixing bowl.
Add shortening and work it into the dry flour with a fork or a pastry blender.
Once the shortening and flour is thoroughly and evenly worked into the flour, add cold milk.
Mix milk and flour into a soft dough.
Spoon dough onto baking pan. It should yield between 8 – 10 biscuits.
Bake for about 10-12 minutes.
Variations
For cheese biscuits, add a cup or shredded cheese into the flour mixture before adding the milk. Alternatively, you could put the cheese on top.
For garlic biscuits, add some garlic powder. Or, add chopped fresh garlic to melted butter and pour it over biscuits right before baking.