Slow Cooker Tex Mex Hamburger Casserole
This recipe came about by accident, but turned out pretty good. Super easy for a week night too. This serves about 6 people.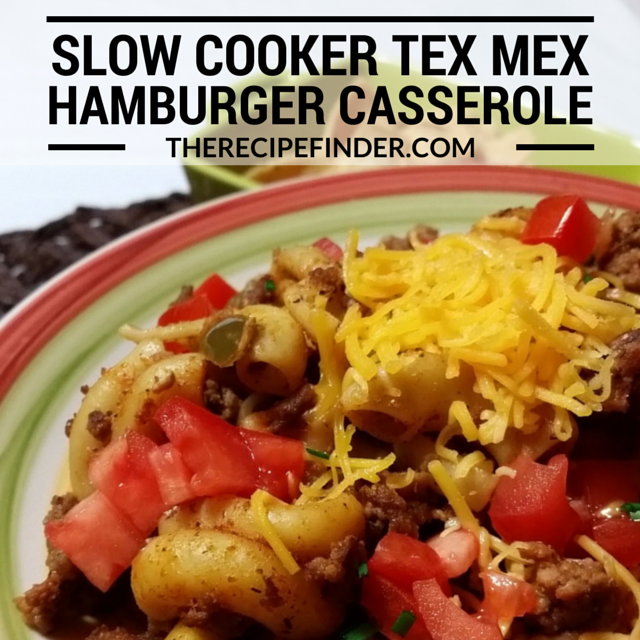 What You Need
1 can Fire roasted salsa style tomatoes
2 lb ground beef
1 – 1/2 tsp seasoned salt
1 tbsp garlic powder or fresh chopped garlic
1 tbsp onion powder or 1 medium onion diced
1 tbsp chili powder
3 cups uncooked macaroni
Optional Garnishing
1 small – medium sized tomatoes diced/chopped
1 tbsp shredded cheese
1 tbsp pico de gallo is good for garnishing too if you have some made up
Make It
Start early. If possible, start browning the meat in the morning or early afternoon.
Put ground beef in the slow cooker, sprinkle salt, garlic, onion and chili powder over the top. Cover and cook on low for about 2 hours. It should either be browned or a half cooked at this point and that's OK because we will be cooking it some more.
Break up the hamburger, mixing it well (remember all the seasoning was on top).
Remove the hamburger from the pot. You may have a little liquid from the meat. It's OK to leave it in the pot. I use 93% lean so there's little fat in the liquid. If you are concerned about the fat, you may want to skim it out first.
Lay uncooked macaroni at the bottom of the pot (with liquid).
Pour can of tomatoes over the macaroni.
Layer the meat over the macaroni and tomatoes. Cover and cook for another 1-2 hours on high*.
Serve with a garnishing of tomatoes and cheese.
*Note: Your cooking time here may vary. I used oven-ready macaroni which took only about an hour. Also, my slow cooker can hold several sizes so I can actually make it hotter and cook faster. You may not have this option. If possible, check on the macaroni about every hour so they do not overcook and become too soft.