Effortless Slow Cooker Roast Beef
Anything that is easy and 'cooks itself'. I'm all for it. There's no denying my slow cooker gets used almost every single day. Yep! I have one that comes with 3 pot sizes so it's super handy because I can cook 3 days in a row and rotate the pots. But that's another story for another day.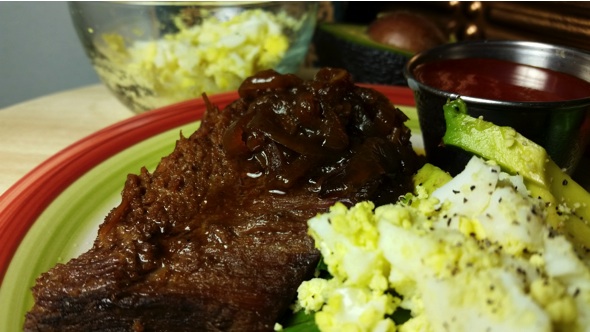 What You Need
2lb – 3lb rump roast or chuck roast (or any cut you prefer)
1 pack ranch dressing (dry)
1/2 pack Aus Jus seasoning
1 stick butter
A sprinkle of red peppers
Make It
Put the roast in the slow cooker
Sprinkle the entire pack of ranch dressing over the roast, covering it completely
Sprinkle the Aus Jus seasoning the same way. You could also mix the two first before doing this but I've never found any problems doing it this way.
Sprinkle red peppers on top
Lay the stick of butter over it. You could also slice the butter up but it'll melt naturally, covering the roast on its own
Cover and cook on low for 6-8 hours
Prepare for the house to smell awesome and dig in dinner time!