Stars and Stripes Muffins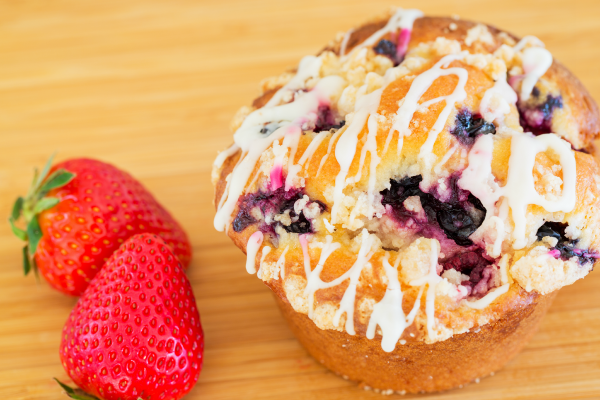 Ingredients:
3 cups all purpose flour
1 cup sugar
4 teaspoons baking powder
3/4 teaspoon salt
3/4 cup milk
2/3 cup vegetable oil
2 large eggs
1 cup frozen blueberries
1 cup frozen strawberries
4 teaspoons sugar
Instructions:
Place the flour, 1 cup of sugar, baking powder and salt into a large mixing bowl. Mix a little to combine ingredients. Make a well in the center of the ingredients. In a separate bowl mix the milk, oil and eggs together. Slowly add to the dry ingredients place the liquid into the well made in the dry ingredients. Carefully fold together until dry ingredients are just moistened through. Divide batter into two bowls. Add the blueberries to one and the strawberries to the other. Mix them in well. Preheat the oven to 400 degrees. Grease 12 muffin tin cups or use baking cups. Fill each full with batter. Six blueberry muffins and six strawberry muffins. Sprinkle the tops with the 4 teaspoons of sugar. Bake 23 minutes or until a toothpick inserted comes out clean. The tops should be light brown. Remove from tin immediately and cool on a wire rack.