I stumbled on this recipe and just had to try it. It has no flour, and has a crazy amount of fiber because one of the main ingredients are dates. I sure enjoyed these and never worried about taking an extra piece or two.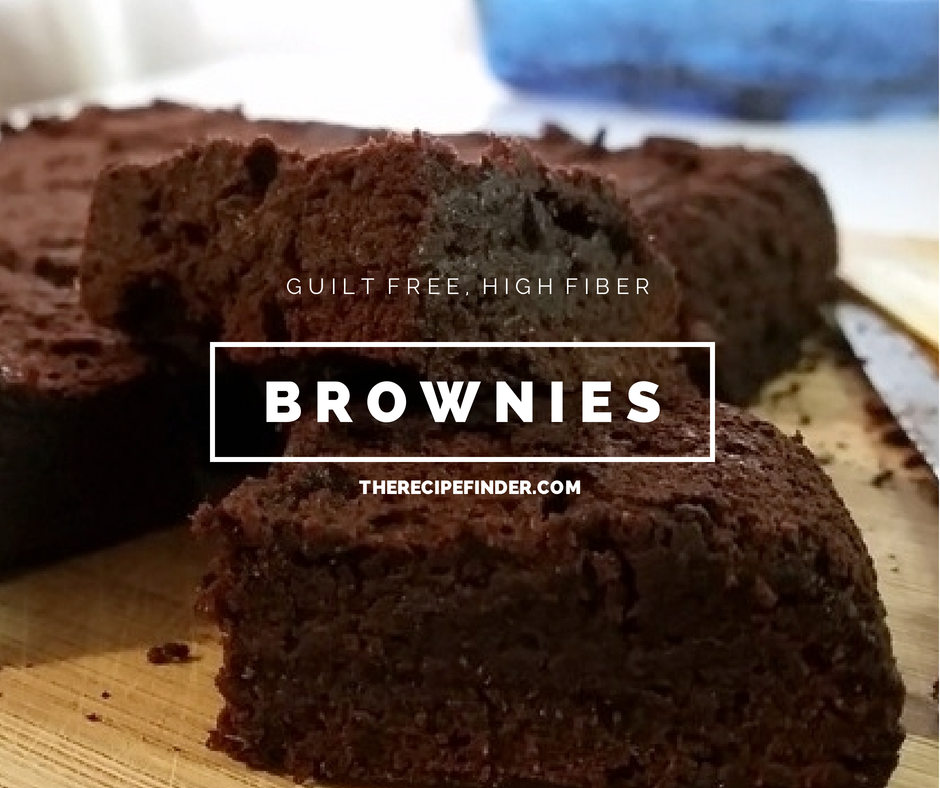 What You Need
1 cup dark baking chocolate. I used semi-sweet because that's all I had but I think given the sweetness of dates, unsweetened baking chocolate would be just fine.
1/2 tsp baking powder
10 oz pitted whole dates
3 eggs
1/4 cup coconut oil
Chopped walnuts (optional)
Make It
In a food processor, pulse chocolate and baking powder till you get a coarse mixture.
Add dates, continue chopping.
Add eggs and coconut oil. Pulse some more until well mixed. This mixture will now be really thick and gooey and somewhat smooth – at least I ran it until it was that way because I didn't want *any* lumps or lumpy bits of dates in my brownies.
Pour the mixture into a lightly greased 8″ x 8″ pan.
Bake at 350F for about 15 minutes.
If you want walnuts on yours, sprinkle them on the top (after baking 15 minutes), and return it to the oven for another 10-15 minutes. I did not add walnuts because my daughter can't have them but I did turn OFF the oven and returned the brownies into it to bake for another 10 minutes.
The result is an amazingly moist and sweet brownie. You never know there is no flour in it because the texture looks like a regular brownie.
Hat tip to Paging Fun Mums – where I originally found this recipe. I adapted from theirs to use cups and ounces simply because it's easier for me.
This was so quick and easily to make. It's going to be part of my standby week day recipe.

What You Need
1 cup flour
3/4 cup corn meal
1 tsp baking powder
1 tsp cream of tartar
2 tbsp sugar
Pinch of salt
1 egg
1 cup sour cream (I used light)
2 tbsp milk
2 tbsp melted butter
8×8 baking greased pan
Make It
Evenly mix the dry ingredients (first 6 ingredients) together.
Add egg, sour cream, milk and melted butter.
Mix evenly. This will become a thick dough-like mixture.
Pour into a 8×8 greased pan.
Bake at 350F for about 25 minutes.
Variations
While I haven't made it with these yet, I figured it would be yummy to stir in some corn kernels, jalapeno and/or cheese. I think it might also be a good idea to increase the milk gradually if I do so it doesn't become too dry.
Shortcuts
I was just sitting here thinking. To make this even faster to throw together. It might be a good idea to simply make up packets of the dry ingredients and store them in bags. Then all you need to do is add egg, sour cream and melted butter.
I've been making these soy biscuits the last few weeks. They are a hit. I also noticed the biscuits turns out softer and more moist.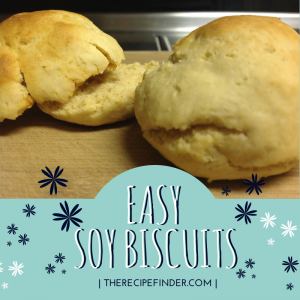 Be fairly warned though. I couldn't come up with a better name, but they are not 100% soy biscuits. This means it isn't gluten free nor it is low carb. It is however, reduced carb. The reason is simple. The recommendation on the packaging said you can only substitute up to 1/4 of the flour for non-yeast breads. It's less for yeast breads. So, I went the max.
It does have a nutty flavor to it which you may or may not like. Although I hope you do.
Ingredients
1 1/2 cups flour
1/2 cup soy flour
1 tablespoon baking powder (don't forget this!)
1/2 tablespoon salt
1/3 cup shortening
1 cup cold milk
Preparation
Pre-heat oven at 375 degrees. Our oven runs hot so you might want to adjust this up to 425. You know your oven best.
Lightly grease a baking pan, set it aside.
Mix all dry ingredients (flour, soy flour, baking powder and salt) together in a mixing bowl.
Add shortening and work it into the dry flour with a fork or a pastry blender.
Once the shortening and flour is thoroughly and evenly worked into the flour, add cold milk.
Mix milk and flour into a soft dough.
Spoon dough onto baking pan. It should yield between 8 – 10 biscuits.
Bake for about 10-12 minutes.
Variations
For cheese biscuits, add a cup or shredded cheese into the flour mixture before adding the milk. Alternatively, you could put the cheese on top.
For garlic biscuits, add some garlic powder. Or, add chopped fresh garlic to melted butter and pour it over biscuits right before baking.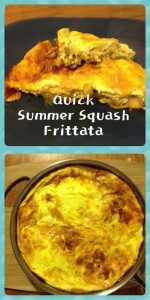 I just whipped up this quick and delicious dish on a lazy Sunday night. Yes, I love breakfast for dinner.
Ingredients
6 eggs

1 medium onion diced
3 small crooked necked squash
1/2 cup sour cream
1 cup shredded cheese of your cchoice salt, pepper and other dry seasoning
1/2 stick of butter or oil
Preparation
In a pan, melt butter or heat oil.

Add onion, sauté till soft.
Add squash.
Meanwhile, beat eggs and sour cream together.
Once squash is soft, turn heat down to low, pour egg mixture over squash.
Cook without stirring until egg starts to set a little.
Remove from heat, sprinkle cheese on the top.
Put the pan in the oven, bake at 350F for about 15 minutes.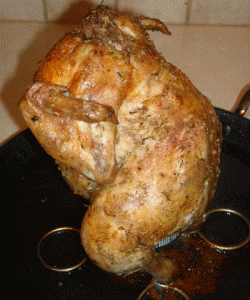 If you're not familiar with "beer can chicken", it's a method of roasting a chicken that infuses the chicken with beer (or another liquid) to create a crispy on the outside and juicy on the outside chicken. Many recipes show beer can chicken on the grill, but you can also make it in the oven. That's exactly what we're going to do with this recipe.
Ingredients Needed:
1 whole chicken
1 can of beer (see below for more ideas)
Dry or wet rub of your choice (see below for ideas)
To Beer or Not to Beer
Any type of beer can make an excellent beer can chicken, but you don't have to limit yourself to beer. You can also use root beer, Coke or experiment with other sodas. Or simply take an empty can and create your own flavored liquid. For example, squeeze mandarin oranges and drop them in the can and top with water to ¾ full. Or add a combination of lemon juice, herbs and some water. It's really up to you. The whole purpose is moist chichen.
Dry and Wet Rub Ideas
Rubs are a very personal choice and it's actually fairly easy to create your own, using the seasonings you like best.
The rub shown in the photo is made with 3 tablespoons of olive oil; 1 teaspoon each of dried thyme, rosemary and sage; a bit of salt and pepper; and 1 clove of garlic. Just mix it all together and rub all over the chicken.
You can also make a dry rub by combining ¼ cup paprika; 1 teaspoon each of kosher salt, pepper onion salt and pepper; and 1 tablespoon each of white and brown sugar. Rub the chicken with a bit of olive oil and then coat the chicken with the dry rub.
Step 1: Preheat Oven
Preheat your oven to 375 F.  You may have to remove the second rack in your oven and move the other rack lower, so that they chicken will fit in while standing upright.
Step 2: Apply Rub
In a large bowl, apply your rub of choice all over the chicken. Rub under the wings, legs and even inside the cavities. If you're using a dry rub, rub a little olive oil on your bird before starting.
Leave the chicken in the bowl until you're ready to place it on your can.
Step 3: Get Your Can Ready
Whether you're using a beer can, soda pop or creating your own liquid, make sure the can is only about ¾ full. Place the can on a baking sheet or oven-safe griddle. You can also purchase a holder for your can to keep in place (there is one in the photo above). It's not necessary, but if you don't have one, you'll have to be extra careful to prevent tipping.
Step 4: Place Your Chicken on the Can
Now you're ready to place the chicken over the can. Open the rear cavity of the chicken and carefully place it over the can, so only about an inch of the can is showing.
Step 5: Bake
Place the chicken in the oven and roast to an internal temperature of 165 F. Depending on the size of your chicken, this can take about 75-90 minutes or so. Once the chicken has reached the appropriate internal temperature, let it rest for about 10-15 minutes before serving.