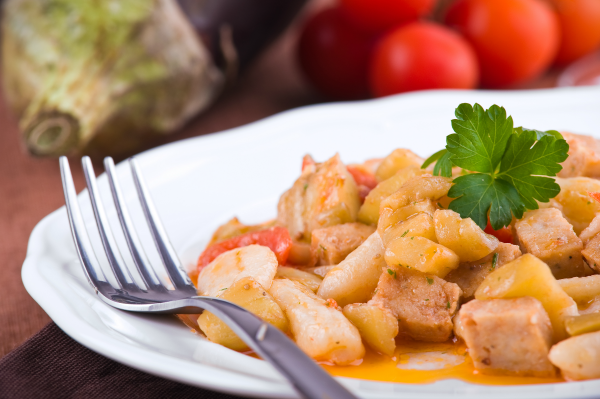 1 pound penne pasta
1/3 cup extra virgin olive oil, plus 2 tablespoons
3 garlic cloves, minced
1/2 teaspoon red chili flakes (plus more to taste)
1/4 cup chopped fresh flat-leaf parsley
4 Japanese eggplants, ends trimmed, thinly sliced lengthwise, then cut into squares
1 pound swordfish steaks, skin removed, cut into 1-inch cubes
1/3 cup white wine
2 cups halved teardrop or cherry tomatoes (red, yellow or a blend)
3/4 teaspoon kosher salt
3/4 teaspoon freshly ground black pepper
1/3 cup chopped fresh flat-leaf parsley
Instructions:
Boil a large pot of salted water over high heat. Place pasta in boiling water and cook until pasta is tender, but still a little bit firm and then drain. While cooking the pasta, cook the 1/3 cup extra virgin olive oil, garlic, 1/4 cup parsley, and red chili flakes in a large skillet over medium-high heat. Cook for 2 minutes stirring often. Then place the eggplant in the skillet and cook an additional 5 minutes. Remove from the pan and set aside. Place the remaining 2 tablespoons of extra virgin olive oil into the skillet. Now place the swordfish seasoned with salt and pepper in the same skillet and cook about 5 to 7 minutes. Add the white wine and cook until almost evaporated. Remove from heat. Combine all the ingredients, stir, and sprinkle with salt and pepper to taste.