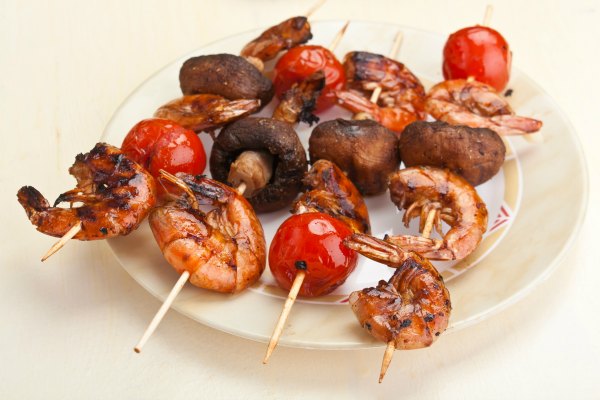 Ingredients:
1 lb raw king prawns
1 tsp sesame oil
1 tbsp vegetable oil
1 tbsp tamari sauce
1 tbsp lemon juice
2 tbsp sweet chili sauce
6 cherry tomatoes, washed
8 oz white button mushrooms, wiped clean
Wooden skewers (soaked in water for at least 30 minutes before using them to prevent them from burning)
Instructions:
Peel the prawns, devein, but leave the tails on.
In a large bowl, mix together the lemon juice, sweet chili sauce, oils and tamari sauce. Add the prawns and allow to marinate for at least 30 minutes.
Thread the prawns on the skewers together with mushrooms and cherry tomatoes. Brush with the remaining marinade and cook on a preheated BBQ until cooked through, about 6 – 8 minutes.